The Giovannoni-Lynch Collection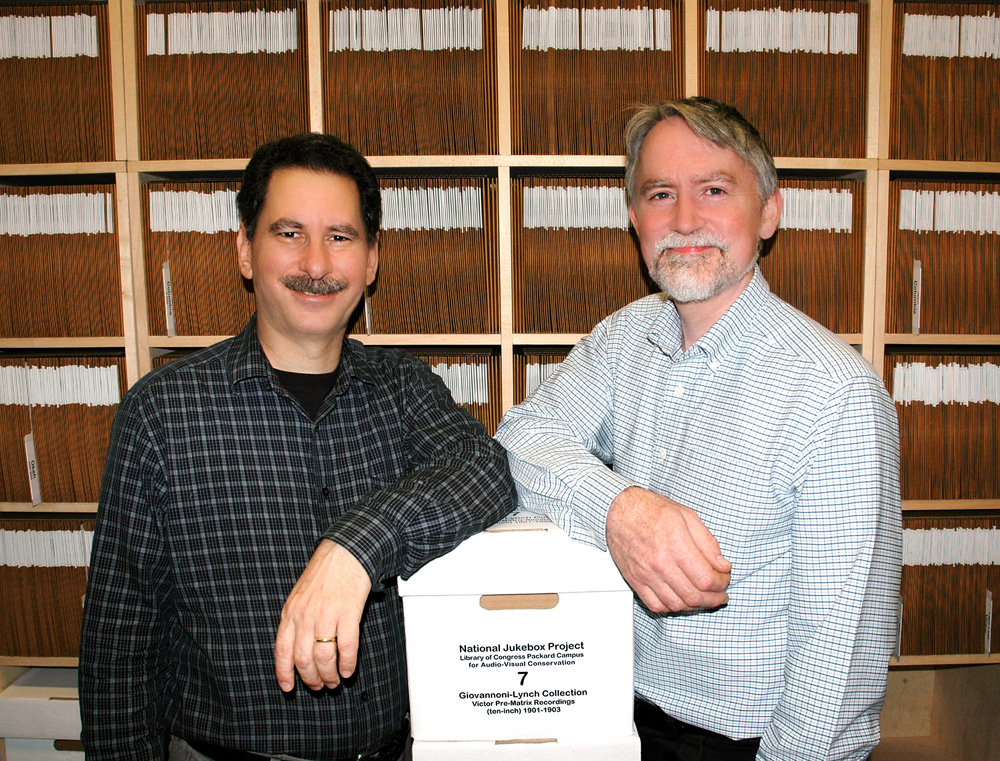 David Giovannoni & Mark Lynch
The Giovannoni-Lynch Collection of Victor Pre-Matrix Recordings contains over 2,000 commercial American sound recordings produced between 1900 and 1903 by the founder of the Victor Talking Machine Company, Eldridge R. Johnson.
The collection offers a rich sampling of performers, including Sousa's Band; instrumental soloists at the peak of their powers such as trombonist Arthur Pryor and banjoist Vess L. Ossman; operatic lights Rosalia Chalia and Emilio de Gogorza; stage actors Burt Shepard and Edward M. Favor; and purveyors of skits and songs that derived their humor from marital infidelity, substance abuse, physical challenges, social ineptitudes, and the ridicule of European immigrants common to the day.
Among the collection's rarest recordings are those by African-American artists George W. Johnson, the Dinwiddie Colored Quartet, and the musical comedy team of Bert Williams and George Walker. In stark contrast are the recordings of Silas Leachman and Billy Golden—white performers whose outrageous black caricatures were accompanied by some of the earliest and hottest ragtime on record.
Victor "pre-matrix" discs are rare because relatively few copies were made of any single recording—typically only a few hundred, sometimes only a few dozen. Not until 1903 was the "matrix" system introduced that could press virtually limitless copies from a given performance. In this way the Giovannoni-Lynch collection sits at the cusp of the record industry's transition from a regional business to one of the twentieth-century's most influential mass media.
The collection is assembled and curated by David Giovannoni and Mark Lynch, who are honored to share it through the Library of Congress's National Jukebox.
Read The National Jukebox: Tracks to Our Musical Heritage in The Wall Street Journal.